SOURCE: Christopher Condon | 
  The U.S. economy continued to expand modestly from late November through the end of 2016 as a tightening labor market helped lift wages and prices more broadly, a Federal Reserve survey showed.The central bank's Beige Book economic report, based on information collected by regional Fed banks on or before Jan. 9, said firms and industries were optimistic about growth this year. Employment gains were characterized as slight to moderate, with most of the Fed's 12 districts saying they expected the labor market to continue tightening.
"District reports cited widespread difficulties in finding workers for skilled positions; several also noted problems recruiting for less-skilled jobs," according to the report, released Wednesday in Washington. "Most districts said wage pressures had increased."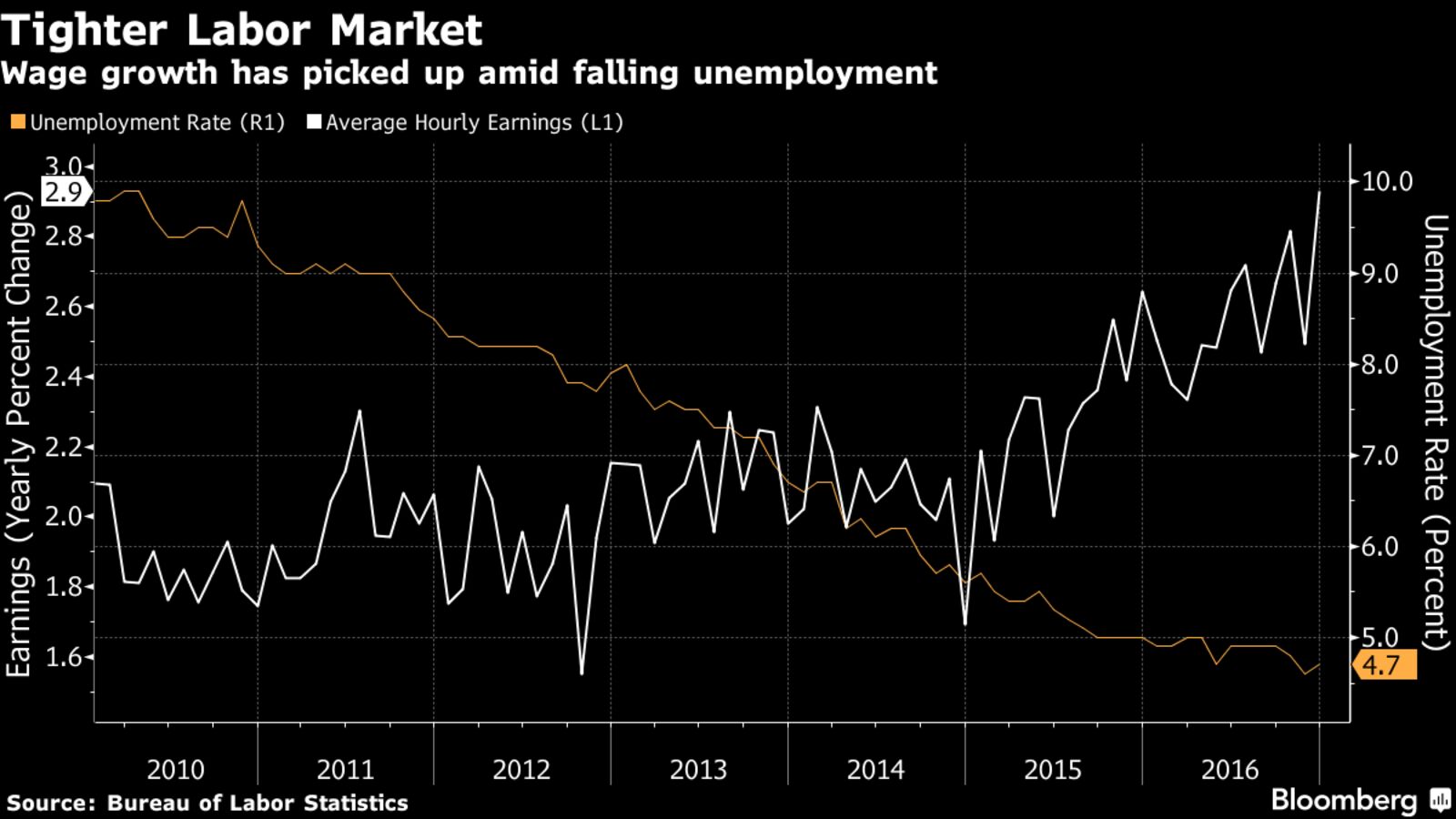 The report underscores the U.S. central bank's views that the economy is healthy enough to continue removing monetary stimulus. Fed officials raised their benchmark interest rate by a quarter percentage point on Dec. 14, to 0.5 percent to 0.75 percent. They also increased the number of hikes they anticipate in 2017, to three from two, based on the median projection of 17 members of the Federal Open Market Committee.
The Fed's outlook for the economy is clouded, however, by uncertainty surrounding the fiscal policies of the incoming administration. While he promised spending increases and tax cuts in his campaign, President-elect Donald Trump has provided few details since the Nov. 8 election on the concrete policy proposals he intends to bring to Congress.
Price Pressures
Some Fed districts reported a rebound in confidence after the election, though the Cleveland Fed noted that it's unclear how changes in regulations will impact investments.
The Fed also noted that pricing pressure has intensified, with eight districts reporting modest inflation.
The Fed's preferred measure of inflation, excluding food and energy, reached 1.6 percent in the 12 months through November. Average hourly earnings rose 2.9 percent in December from a year earlier, the biggest jump since 2009, adding to confidence that inflation will continue to edge toward the Fed's 2 percent target.
Labor markets across the country "were reported to be tight or tightening during the period," the report said. "A couple of districts mentioned layoffs, but even in those districts, as in other regions, most responding firms were said to have added employment, on net."
The central bank's report made only a few references to the economic effects of the Trump administration's fiscal and trade policies, some of which have unsettled currency markets.
The Mexican peso has weakened in recent weeks as the president-elect calls for a tougher stance with Mexico on trade and immigration. In the Fed's Dallas region, "retail sales continued to be weak in energy-related and peso-sensitive areas," the report said.